Services
Representative (liaison) office services.
It is well known that the representative office is the simplest and most cost effective choice as the first step to entering this new market.
It allows physical presence in Japan, without allocating a high budget.
Representing foreign businesses in Japan.
Acting as a communication channel between the parent company and Japanese companies.
Facilitating technical/financial collaborations between foreign and Japanese companies.
Liaising with various Government departments on behalf of the foreign entity.
Incorporation services
Professional services for incorporating your company in Japan - either a stand-alone company (GK, KK) or a branch of your existing company.
Staffing / Human Resource management
You can have your own staff working for you, in case you need particular tasks done on a regular basis. We can designate an individual from our own staff or alternatively recruit a new qualified person to work for you. We coordinate, oversee and validate staff's activities and should there be any problem, you can be sure we are in control, which means you are in control.
Fairs & Exhibitions
We can visit the venues as your representative and talk to the exhibitors you specify, to gather the needed information for you, or to inform them about the products/services you offer. The most important venues are Tokyo Big Sight, Makuhari Messe in Tokyo and Intex Osaka, but there are many others too.
Government contractors
If you are a US government contractor we can offer you the local support that you need to complete your mission.
Physical address
We provide a physical registered address for any kind of situations when this is legally required, such as incorporation.
Local Director
When requested, we can provide a local nominee director, for incorporation or branch registration.
Maintenance of a Japanese website
In case you need a website in Japanese we can translate it for you and moreover host it on a server in Japan.
Task performing and management
Our clients appoint JPA as their representative in Japan, to perform the assigned tasks or act on their behalf in situations where they themselves cannot be present.
Accounting
Our clients appoint JPA as their representative in Japan, to perform the assigned tasks or act on their behalf in situations where they themselves cannot be present.
Obtaining local licenses
We can help you get the licenses required for performing certain business in Japan, for example PSE, PSC certifications for electronic products.
M&A advisory, Transactional advisory
If you are interested in aquiring or being bought by a Japanese corporation, we can mediate this transaction on your behalf and in your terms.
English - Japanese translations
We can provide Japanese - English and vice-versa translations of the correspondence with your Japanese partners, or translation of any other necessary documents. Interpreter and guide services are also available.
Amazon Japan support
In case you are interested in selling products on Amazon Japan, we can help with providing the local presence requested by Amazon Japan, that is local contact office and customer support assistant.
Crypto currency
We can help with setting up an account at a Cryptocurrency Exchange in Japan.
Gather Information
We can help with gathering intelligence and any needed information from Japan.
Bank Account
We can help you with opening and managing a bank account at a Japanese bank. Your nominee director has to be granted the right to operate the account.
To open an account at any bank, the company seal is needed, not just the signature of the representative person in charge.
The 2020 Tokyo Olympics has triggered a wave of an interest about Japan from the part of people from all over the world, through both top class technologies and as well as traditional or unorthodox business models.
If you come to Japan for the Olympics, why not checking out the industry and find possible Japanese business partners?
You could take the opportunity and gather intelligence, know-how and information related to your
Business such as direct business partners or digging up interesting technologies or businesses implemented successfuly in Japan. JPA can assist you in searching for such information, as well as setting up appointments for the meetings with possibly interested parties in Japan.
We also offer translation services and guidance for tourists, dispatching individual interpreters, providing any needed service.


Service Packages
Examples of Service Packages
Basic Plan
Physical address in Tokyo. Fully equipped office and meeting facilities.
Phone number, fax number.
Sending & receiving faxes.
Communication in Japanese with the Japanese partners and in English with our clients (verbal and written).
Translation of the correspondence from Japanese to English and vice-versa.
Operation during Japan working hours.
Our clients appoint JPA as their representative in Japan, to perform the assigned tasks or act on their behalf in situations where they themselves cannot be present.
Value Plan
All the services listed in the Basic Package plus:
Active search for suitable business partners in Japan. This includes searching companies databases, consulting specialists from various firms and organizations, supporting business matching, direct contacting of companies.
Depending on your needs, the Representative Office can carry out activities including customer service and technical support, product development, marketing management, production management, human resource management, IT support, financial planning and other organizational activities.
The Representative Office can also be requested to carry out organizational structural activities, such as green field in-plant, relocate, downsize, closedown, acquisition, merger, establish a dedicated operation and the like.
Our clients appoint JPA as their representative in Japan, to perform the assigned tasks or act on their behalf in situations where they themselves cannot be present.
Benefits
Presence on the Japanese market.
No need for typical investments necessary for opening an office.
No need for a high monthly overheads for office expenses (like rent fee, maintenance fees, staff wages, transportation, etc.).
Operation during Japan business hours, communication in both languages.
In case you already have a sales representative, we can still assist you as an independent agent and observer of the market.
About the fees

Fees
The following are one-time fee services:
Branch registration or company registration (in case you have your own local director and physical address)
Opening a Bank Account
Translations
Trade Fairs participation
Staff recruiting
Accounting (once a year)
The following Services are charged on monthly basis:
The Basic and Value Packages
Representative (liaison) office services
Branch registration or company registration (in case you need a local director and physical address from us)
Physical Address
Nominee Local Director
Maintaining a Bank Account ( the local director and physical address is provided by us)
Website on a server in Japan
Note: Monthly fees are payable every month, every 2 or every 3 months.
Latest News On Japan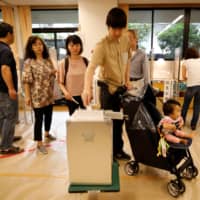 Abe's quest to amend Constitution at crossroads as voting begins in Japan's Upper House election
In an election widely seen as make-or-break for Prime Minister Shinzo Abe's longtime ambition to revise the postwar Constitution, voters went to the polls on Sunday to deliver a verdict on his 6½-year-old administration. The Upper House election has huge political implications for Abe. There is ...
Kyoto Animation arson survivor hints that unusual door to roof may have prevented employees from escaping blaze
A man who survived Thursday's deadly arson attack on an animation studio in the city of Kyoto has told Jiji Press that the door to the roof of the building was "a difficult type to open" because it was unusual. The door was "a rare ... Citizen campaigns seek to increase voter turnout in Upper House election
Thanks to Japan's fairness guidelines, NHK offers free air time to all political parties participating in national and regional elections, a service that earlier this month resulted in the leader of the Party to Protect Citizens From NHK, which advocates the elimination of NHK's ...